Hacking the recruitment model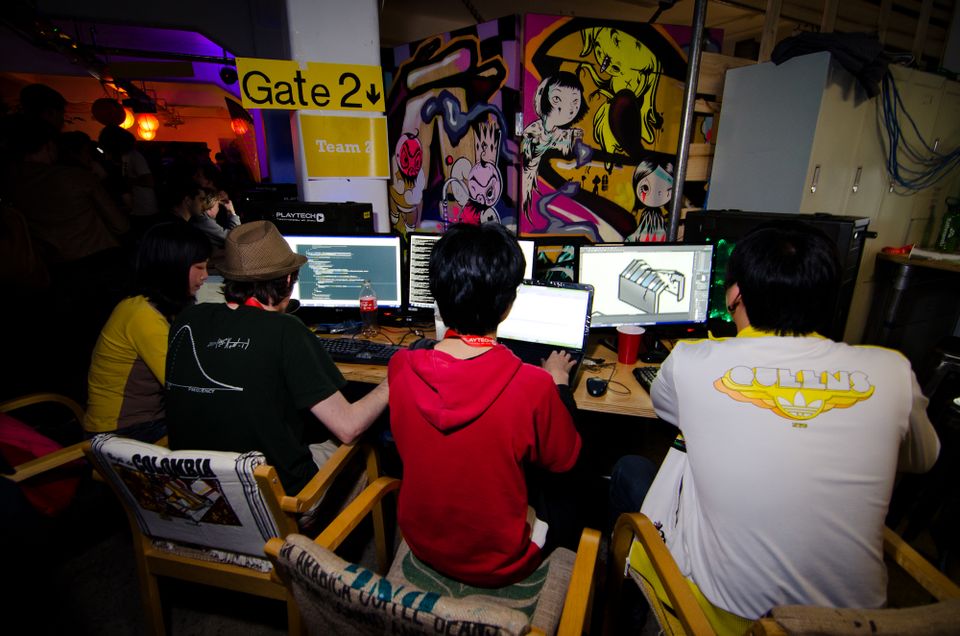 Traditional recruitment models have been scrutinised. Job boards aren't delivering the consistent quality of applicants needed. Depersonalised ATS' are hindering fluid conversations with desirable candidates. Social media in recruitment is ubiquitous.
Leadership in recruitment marketing requires new thinking and execution; projecting the employer brand into market niches in interesting ways. The ROI for innovation in this space is both great talent and brand advocates.
In 2013, I connected with a local software development company that really understood this. It identified with a young group championing a new perception of the IT industry and also a mutually beneficial recruitment vehicle.
Hacktivate Heist, a live programming event, was the initiative of a team of entrepreneurs working to make the technology sector cool to diverse audiences through collaborative and social emphases on gamification. University students were pitted against professionals in an atmosphere of music, drinks and inquisitive spectators. It leveraged hacker and hipster culture to present computer science to prospective students as a fun, viable career pathway.
Adding legitimacy to this aspiration was the involvement of Orion Health, sponsoring Hacktivate for the second time and announcing in the final week's build-up to Heist that jobs would be offered to the winners. While the goal of the event remained to out-hack the other team and more broadly to entertain, this transformed its significance and supported the Hacktivate mission: to encourage the growth of IT talent and connect it with the local industry. For Orion Health, it was undoubtedly a smart employer branding exercise.
The connection between the two parties was made after a team of employees competed in an earlier event. Jonathan Pulman, then Vice President, Human Resources noted that sooner after, "Every whiteboard of every meeting room was adorned with the rather cryptic message 'hacktivate.me'. It seemed we already had a few Hacktivate converts in our midst." Following the successful guerrilla marketing campaign, organiser Shane O'Connell presented at the company's Friday drinks. The efforts drew a strong contingent of staff to the following event and the interest of CEO, Ian McCrae, a well-known advocate of improving IT education at school level to future-proof the industry.
Orion Health saw business value in Hacktivate Heist because of 1) the shared mandate to develop the necessary resources for its domain and 2) the visibility of emerging talent capable of outside-of-the-box thinking--those who would fit vocationally and culturally with the organisation. To Pulman, Hacktivate believes what the business believes:
They help quash the traditional misconception of the programmer sitting in a windowless basement, tediously plugging away at their keyboard. Instead with Hacktivate Heist students can see really smart people, working as a team to solve cool problems and having a lot of fun in the process. This resonates well with us here at Orion Health as it is similar to the collaborative and active problem solving approach we encourage within all our teams.
While a better-resourced industry is good for Orion Health as an employer, it's also advantageous for all local IT businesses. So does the company feel it is reaping an appropriate level of reward in terms of employer branding for the effort it's making on behalf of the wider market?
Pulman confirms they experienced "better brand recognition and greater interest" in graduate opportunities than the previous 12 months of activities to raise awareness of information science. Importantly, growth plans for the next ten years simply compel Orion Health to foster a talent market to meet its future needs:
[We] fully realise the wider economic implications of encouraging ongoing growth in ICT for New Zealand as a whole, and so even if graduates remain within IT and do not choose us, we still feel that our efforts have been worthwhile. There are many world class IT companies beginning to emerge within NZ and for us to continue to attract the high quality software developers we need, we have to be able to diversify ourselves from the competition. Events such as those run by Hacktivate fit well with our goals in this respect.
Aside from the obvious brand exposure Hacktivate provides, Orion Health recruitment doesn't directly measure the effects of its involvement with these events. However, its confident of the advantages which can be seen in the number of job applications that mention learning of the company through such initiatives.
In addition, the company broadcasts this success back into the talent market by having graduates and interns return to their former tertiary institutes to present at guest lectures and careers fairs on their experience. This approach of actively engaging with industry extends to more senior staff also who play a "pivotal role" in designing employer branding campaigns. Along with competing in hackathons, employees have launched Codeworx, a non-profit community created during an assigned "innovation week" of personal pursuits with the goal of increasing local programming graduates through knowledge sharing.
Sustaining Orion Health's enthusiasm for employer branding and perhaps more altruistic industry activities is its CEO. Where many companies struggle to get the executive management support required to launch innovative EVP and recruitment advertising projects in a meaningful way, McCrae is present at events like Hacktivate and regularly comments on IT resourcing needs.
Pulman notes that key to getting executive buy-in is relaying measurable outcomes: that every brand awareness initiative is highly coordinated and ties together to demonstrate positive influence on the company's recruitment.
If your projects are not resulting in concrete returns, you will find that executive management support will soon dry up. We have been tactical in what we have undertaken and have made sure to incorporate a mix of short and long-term projects that build upon each other to ensure sustainability. We have seen direct results in terms of the number of applicants we are getting for our positions with a direct correlation to each project. These very applicants also tend to be of a high calibre and several are now on staff.
Significantly, the organisation saw "great returns for relatively modest investment." With a handful of notable exception, New Zealand has seen a dearth of compelling employer branding campaigns. Orion Health acknowledges that the fear to try something new, bold, and creative in recruitment marketing is a common inhibitor.
The company maintains the need to not only appeal to existing candidates with a coolness factor in targeted channels but to grow emerging talent to support a sustainable recruitment model. That's a strategy Hacktivate's entrepreneurs attest to and one positioning Orion Health as an employer of choice for current and future workforces.
How does your business engage the talent community? I'd love to hear about it.
Originally published on Tumblr.
Image source: supplied