The album is dead, long live the album!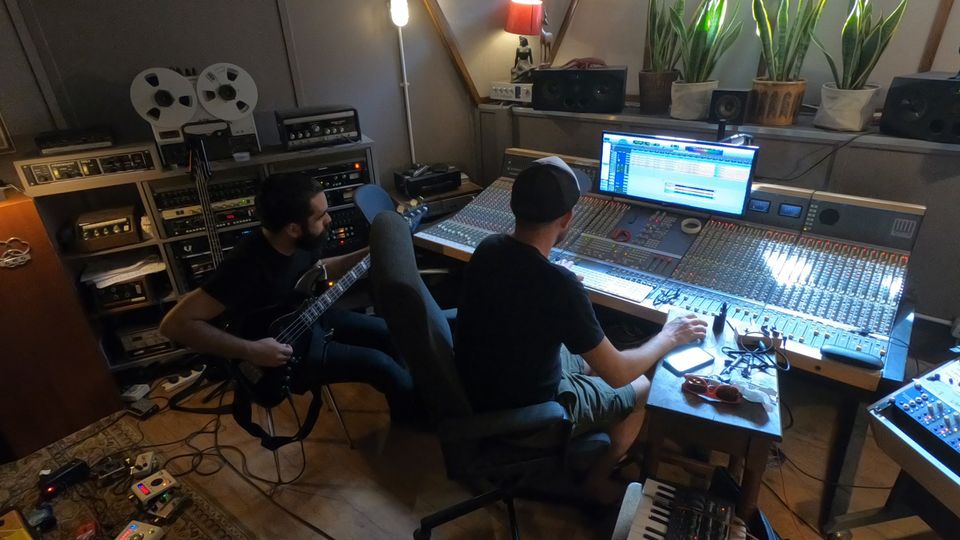 In roughly one year, we created a new band, wrote around 50 song ideas and then recorded six tracks on a 1939 lightship moored on the River Thames 18,000 kilometres from home. A dream come true (through intense creative effort, financial discipline and the incredible support of our families).
Our decision to release each song individually, rather than as a collective, is an experiment. We're testing the hypothesis that a "big bang" release of all the recorded music would be a disservice in the attention economy. This is especially the case for a new artist without an established fan base, undertaking independent marketing and promotion. It's an even bigger consideration for a niche act from the underside of the planet.
I imagine standing by a fast flowing river, dropping a single leaf and hoping that someone a kilometre downstream might happen upon it—appreciating all its rich textural detail and deep shades of meaning. It seems unlikely, particularly without the traditional infrastructure of extensive touring, marketing content development (music videos) and typical capital-intensive promotional practices. Avoiding these requisite promotional expenses may be contrarian.
For this band though, recording is our top priority. Before we consider any idea or opportunity that may divert funds away from that objective, we reflect on whether a similar experience made all the difference in our previous bands or if, all things being equal, the money would have been better spent recording another album. The essential challenge to evaluate any prospect becomes, "Is this more important than funding the next recording experience?" This keeps us focused and radically simplifies our expectations.
We have done things that had intrinsic value (that we defined) and not a material impact to the promotion of our music. I don't regret tours that ran at a loss—when we reconciled the return on investment as "exposure"—because the adventures and camaraderie were precious to me. So, exceptions exist for that which we collectively care about (causes, bands). The metric from those experiences is "time well-spent." However, I don't want to allow us to be distracted by other traditional music marketing activity that isn't actually measurable or won't matter in 10 years' time.
So, what else can you do?
What if I drop one leaf, then another and continue a little chain of messages to a targeted community? Assuming you can continue to grow your resource of new recorded material while simultaneously releasing the previous cycle of songs so that the chain is continuous, would that make chances of discovery higher?
According to Robbie Snow, SVP of Global Marketing for Hollywood Records, as quoted in Rolling Stone, "In this day and age, we try to keep things flowing so artists almost never go away. Fans want to be engaged constantly with artists that they like."  The article explores successes and failures with this approach by popular artists which may have little relevance for smaller, new acts. However, the implication appears to be that the only way to understand what the audience wants is to experiment in-market, gain valuable data and test your hypotheses on fans' diverse listening preferences. Better to do that in a manner that allows you to analyse results in real-time and pivot your strategy before all your precious content is already "out there."
Does it matter whether the "single" releases are unique tracks but not radio songs? We don't have the constraints of striving for commercial radio play—specialty shows and college radio have been more receptive to date—so for us, no. We tailor our submission to Spotify editors and playlists curators as appropriate to the song. Every time we do that, the track is brand new—not from a rapidly ageing release some months prior.
Speaking with a local industry leader recently, they opined that 1) artists like us should be trying to over-service potential super-fans with a big catalogue and 2) PR specialists are struggling to get traction with press for even small collections due to media outlet shrinkage such that single reviews were exceedingly rare. These are good challenges as to why there may still be merit in us bundling things into a couple of EPs or a 10". Conversely, 2019 US market album sales were down 26% whereas, "Overall Song consumption (song sales + on-demand streams/150)… jumped to a new high of 7 billion, up 21% over 2018," (BuzzAngle). On balance, it's interesting to note that Billie Eilish apparently released 15 singles before her 2019 debut album.
In any event, the most powerful mechanism for awareness and engagement appears to be landing an editorial Spotify playlist. The booming underground economy of pay-to-play "curated playlisting" or playlist promotion (not to mention playlist gaming) speaks to just how hard it is to achieve that coveted recognition—notwithstanding, the paradox of "dry steams" (plays that don't convert to listener following).
Perhaps the evolution of Spotify's playlist ecosystem is a step towards leveling the playing field or at least improving discoverability for individual listers and artists alike. Personalised editorial playlists have apparently increased the number of artists featured by 30% and the number of songs discovered by 35%. Moreover, the engagement appears to be deeper: "…after discovering a song through a personalized editorial playlist, the number of listeners who then seek out the track on their own for repeat listens is up by 80%. In fact, the average number of times a listener saves a track is up 66%."
The reality is, our audience is in its infancy and—we think—consuming new music in the same way we do. That is, song-based discovery through algorithms and trusted sources as it fits in and around our core listening preferences. Like us, they may be prepared to listen to a full album from an otherwise unknown act if thoroughly convinced it will be time well-spent. That assumes the artists' music makes demands on an audience such that it isn't suitable for "background music" listening in the first instance.
I acknowledge the power of an LP or EP to enable a narrative experience. I loved writing concept albums and insisting that it was all very important to digest it as one meal and relate to its interdependencies. Nevertheless, our current experiment to drip-feed content is to extend the awareness campaign of our work with little spend. The unintended consequence of track-by-track release over time is that I feel we are telling the narrative but with better pacing—complimented by newsletter and blog posts. [If you've made it this far, you might like these posts: Thoughts about "The Futurist" upon its release and Experiments with writing lyrics—meaning through meaninglessness.] And perhaps like a comic book series, it doesn't really matter what issue your jumping off point is. The origin and contemporary stories can coexist and augment one another.
With this in mind, we look forward to sharing our next single in the coming weeks, Time and Relative Dimension in Space.
---
This post originally appeared here.